C1
3 Bed

2 Bath

1,268 Sq.Ft.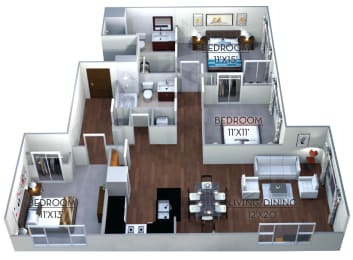 3 Bed 2 Bath Apartment called C1 thats 1267 square feet. Entrance to the apartment is on the left side of the image and straight ahead is a door to the first bedroom. Around the corner is the first bath and laundry room. In the middle and right lower part of the image is the kitchen, dining area, and living room. Down another hallway off the dining area is the entrance to the second bedroom and then the final door leads to the master bedroom with a walk in closet and private bathroom.
$4,520to-$4,700 / mo
Specials Available
There might be specials available for apartments in this floor plan, subject to their availability and your choice of rental preferences
D2
4 Bed

3.5 Bath

1,763 Sq.Ft.

4 Bed 3.5 Bath Apartment called D2 thats 1763 square feet on three floors. Entrance to the home is on the middle level and is an open concept living room, dining area, and kitchen with two separate porches and a half bath. The second level opens into another living area with a balcony, two large closets, one full bath, and a bedroom with private balcony. On the lower level or basement is a hallway with 3 bedrooms, one shared full bath, and one private full bath attached to one of the bedrooms.
$4,839to-$5,155 / mo
Specials Available
There might be specials available for apartments in this floor plan, subject to their availability and your choice of rental preferences
Map View